The age-old marketing approach of simply pitching your product to your prospects doesn't work with new-age products & services. New-age B2B marketers need to now create demand for their products & services, by educating their prospects, building a relationship with them, and then pitching how their product or service can solve their problem.
Here's where live virtual events come into the picture. Virtual events are a great way to interact with your prospective customers, as they offer an environment for purposeful & engaging business conversations, with quality content, engagement features, and networking opportunities. 84% of tech leaders agree that live events can create awareness and remove the conversion roadblocks. Let's find out how
In this article, we'll discuss the different stages in the marketing funnel, and how can virtual events work for every stage.
So, What is a B2B Marketing Funnel?
Any B2B marketing funnel intends to guide the buyers in their decision-making process. An optimized marketing funnel can help you generate and qualify maximum numbers of leads.
A marketing funnel is the visualization of different phases of a consumer's purchase journey. Prospects/leads scroll down from the top-most stage of a marketing funnel to the bottom stage, as they decide whether to purchase a company's products.
Any B2B marketing funnel is broadly divided into three stages, namely:
Awareness stage -

The top stage of the funnel

Consideration stage -

The middle stage of the funnel

Conversion stage -

The bottom stage of the funnel
Let's understand which type of virtual event works for each stage of the funnel.
Strategies to Revitalize your Marketing Funnel with Virtual Events
You should remember that not all virtual events work in all three stages of the marketing funnel. You need to choose your virtual events based on the respective stage your prospects are in.
Virtual events can be of many different types, based on what you are trying to accomplish. Hence it is important to understand which type of virtual event to use for what objective. One rule of thumb when choosing the type of virtual event is to consider which stage of the funnel or phase in the purchase journey is your prospect in. Other considerations include, no. of attendees, their job roles, and time available. Budget considerations, which are extremely important when planning a physical event, are not relevant since the same Virtual Events Platform can be used for all kinds of events.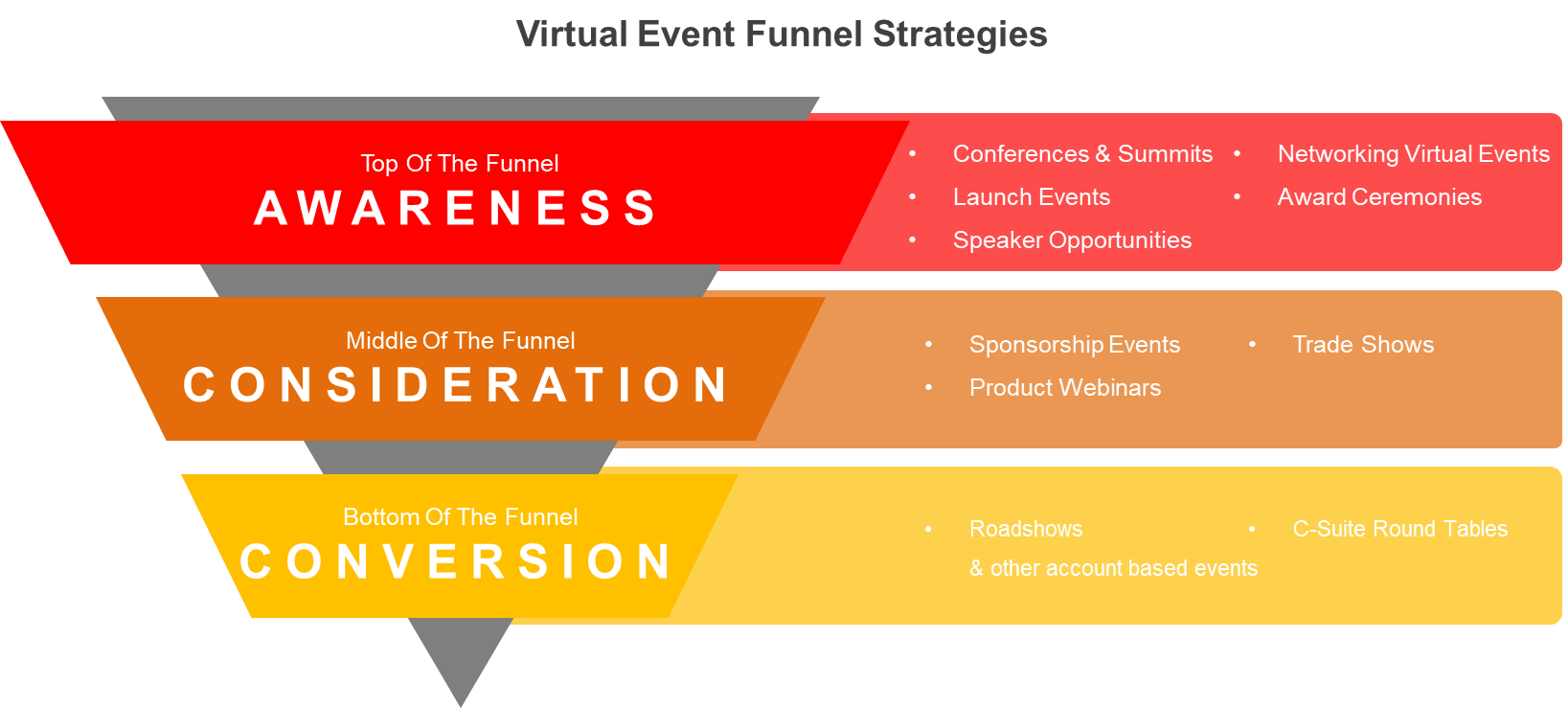 #1 The Awareness Stage
A prospect who is at the top of the funnel is not really aware of your brand and its offerings. So, for top-of-the-funnel prospects, your goal should be to generate awareness and create brand visibility. If you can impress a prospect in this stage, you will be able to move them down to the consideration stage.
This stage is purely educational. You should never pitch your products and services to the prospects at this stage. That will make you look pushy and the prospect may end up leaving the funnel.
For example, suppose you want to sell notebooks. In the awareness stage, you should start with "why note-taking is important?". That's the first thing you want to explain to your prospects.
Virtual Events that can work in this stage:
1. Conferences & Summits
Conferences & Summits are a great way to talk about your company, products/services, and key initiatives undertaken by you to create mind-space among your prospects. These are large format events with keynote addresses, break-out sessions, showcase booths or demo areas, and even workshops. The key to hosting a great conference is featuring industry renowned speakers and internal leadership, to offer great content on topics that truly matter to you as the host and your prospects in attendance. They also serve really effective networking opportunities to the hosts & audience, making them extremely lucrative to attend. Furthermore, by capturing the details of the attending audience you can also build a strong lead pipeline. The only drawback to this format of virtual events is that they are resource and planning intensive, but offer great returns at the top-of-the-funnel.
Launch Events
Launch events are a great way to talk about your newly launched products or services, and can serve as a strong source of lead generation. In a virtual launch event, marketers can invite and target different groups and communities of people (who they see as their prospective clients and customers) and even the press to get the word out through publishers & journals. The key to hosting an effective launch event is putting up a good show around your product, featuring leadership addresses, product expert talks, and interactive demos. When done right, virtual launch events can be a great place to get the word out about your product, and connect with prospective customers to generate leads.
3. Speaker Opportunities
One of the ways to create visibility for your organization & offering is by grabbing speaker opportunities for your leaders at industry events, or thought leadership events of other organizations. This will help you create awareness among and inroads into newer audiences who may be present at these events. These opportunities at times also come with sponsorship & branding opportunities, offering you more share-of-voice.
4. Networking Virtual Events
Networking virtual events are a big hit! These events are about connecting people of common interests together. Also, networking events are a great way to understand the pain points of your target prospects. These virtual events can help you take pointers on the pain points of a community and plan the upcoming virtual events for the next stages. Find networking events to be a part of, or organize your own to pull in prospects.
5. Award Ceremonies
Hosting virtual award ceremonies is a smart way to build your prospects' interest in your brand. These types of events give the prospects an idea about your brand's position in an industry. Hence, getting brand recognition becomes relatively easier. Also, don't forget that award ceremonies can attract a large group of industry leaders.
#2 The Consideration Stage
The consideration stage is where both parties (you and your prospects) discover new things about each other. Education and evaluation happen simultaneously at the consideration stage. In this very stage, you can identify if a prospect fits your buyer persona while the prospect can discover if your products can offer them a solution or not.
This is the stage where you don't sell your products directly, but you start putting efforts to build relationships. The risk with this stage is that more and more rivals will also try to attract your prospects in the consideration stage.
Hence, to stay ahead in the game, you need to host virtual events where you can end up connecting directly with your prospects.
Virtual Events that can work in this stage:
1. Sponsorship Events
Create visibility in relevant 3rd party events where your prospects are the audiences. With strong & contextual branding opportunities, booths to display your products & services, and speaker opportunities to share your point-of-view & pitch, these sponsorship opportunities can really catch your prospect's eye and pique their interest enough to move them further down the funnel.
2. Product Webinars
Once your customers get to know about your company and what you do, they would want further details about your products & services, and how they can solve their problems. Webinars are a great way to serve them this information, and offer a platform to connect and pose their queries. These can be served as pre-recorded on-demand, or live and each registration captured doubles up as a high intent lead (since they expressed their intention to know more). The key to hosting an effective webinar is to structure your content in a way that answers your prospect's biggest question - how can they benefit from your product/service? This means content that talks about your products capabilities and features, deployment and ease-of-implementation, and support offered upon empanelment. You can also present information on the different pricing packages you may have, however this is not a platform to discuss final quotes and closing deals. That comes in the next phase of the funnel.
3. Trade Shows
Another cool way to grab the attention of prospective customers in the consideration stage is by hosting trade shows. Note that, prospects attending trade shows already have a fair idea of the industry. What you need to do is give them a reason to believe in your product.
Create reasons to believe by showcasing your product suite, and communicating how your products solve their problems. Think of these as virtual product demos, featuring powerful content and informative downloadables, which they can take back for further consideration & recall.
#3 The Conversion Stage
This is the bottom of the funnel where your potential customers make the final purchase decision. They are now done evaluating your product and are wondering when to buy it. The conversion stage is like a make-or-break phase of your marketing funnel.
The biggest challenge of this stage is to understand how your products can be placed at your prospects' long-term business goals. Once you figure that out, you can easily influence your prospects' decision-making process.
Virtual Events that can work in this stage:
1. Roadshows & other account/client-focused events
Roadshows work pretty well as a bottom-of-the-funnel strategy. These are small-format events done for a specific account, team, or group of decision-makers, to show how an implementation of the product can be done. This is a last-mile conversation on how, if sold, the product or service will be deployed and how the different product functionalities work. This usually follows a sale, the end goal of our B2B marketing funnel.
2. C-Suite Roundtable Events
C-Suite roundtables are most useful to influence the leadership of your prospects, typically the final decision maker in the purchase decision. It is effective, as it offers a very high-value and focused conversation on how to create partnerships & synergies. The conversations here are more purposeful, long-term, and strategic, and often go a long way in influencing the final purchase decision.
Host Interactive Virtual Events with

Kestone
Host all the above event types and more, with Kestone Global's Virtual Events Platform.
We offer the most comprehensive and customizable virtual events solutions for all your funnel use-cases and more. Check out our top 10 virtual events for 2020 to get inspired.