Introduction:
Like every year Saas marketers eagerly waited for Saastr annual, the largest Saas conference, in 2020. However, when the words got around that event was postponed because of the pandemic, the global Saas community was heartbroken.
Much to Saas folks' delight, rather than cancel the whole event, Saastr finally held a virtual event.
And the response was overwhelming.
It attracted an even larger crowd who otherwise wouldn't be able to make it to the previous venue. 50k Saas executives, CEOs networked and learned from Saas leaders like Howie Lu ( CEO, Airtable), Erica Brisca (COO, GitHub) and others without leaving their homes.
Saastr Annual 2020 was a huge success. But that was only one of the many successful Saas virtual events. Grandviewresearch predicted virtual event market size will balloon to 404B USD by 2027( USD 94B in 200).
Virtual events are here to stay and will soon be a part of effective Saas marketing.
But how do virtual events fit in your Saas marketing plan? Or can virtual events address the unique challenges of Saas marketing?
Let's find the answers.
Marketing priorities of Saas industry
"..But what about marketing something that has no physical presence? Or marketing something that is constantly changing? Or marketing something that has some goofy name? Or marketing something that only about 20 B2B companies will be interested in? Or marketing something that doesn't even make sense to the average person?" -- Neil Patel .
Saas industry is very dynamic in nature-Marketers are more open to new ideas, innovations are frequent and customers are quite well informed. All these make Saas marketing characteristically different from product-based B2B marketing.
If you are to dip your toes in Saas virtual events, you might want to take a look at these Saas marketing priorities first:
Short sales cycles: Most Saas sales are quick. When customers look for Saas solutions, they do some research, watch a demo and bam!!! they purchase. The entire decision-making process can be just a few days long. Long drawn out sales engagement, contract negotiation etc. usually are out of the question.
Free plans: Free trials or freemium models are extremely common in Saas marketing. The reason is customers prefer to use the product or service for free before upgrading to a paid version. Freeimum, free trial or any other kind of "free" model gives customers a level of confidence before they reach out for their wallets.
Content ( especially free content) is the king: Intercom, Hubspot, Ahref- most of the top Saas companies have amazing blogs, video libraries and a great collection of resources. Quality content in any format helps Saas companies to demonstrate thought leadership and build trust. Once a company became known for producing useful content, it is easy to both attract new customers and retain existing ones.
Customer retention is more important : Unlike other product based B2B marketing, customer retention is more important than acquisition in Saas marketing.
A study by profitwell showed a 1% improvement in Saas client retention increased revenue by 6.71% where client acquisition has only a 3.32% impact.
Explanation?
When you retain old customers for longer, their lifetime order value goes up while the cost of retention goes down. On the other hand, high acquisition cost usually negates any significant profit you earn from brand new customers.
Benefits of organizing Saas virtual events:
When it comes to adopting virtual events, some questions arise frequently: Will there be any technical glitches? How can I ensure my attendees can stay engaged and network? How can I attract sponsors?
Since the concept of virtual events is relatively new, these are valid concerns.
We learned from our own experience at Kestone that with proper planning the benefits of virtual events far outweigh the risks:
More attendees: Do you think on-venue events have more attendees? Think again. Virtual events attract many who otherwise wouldn't be able to reach the venue. Some even prefer virtual events because they can pause during a session and watch recordings later.
We have numbers to support our claim. During the 2020 lockdown , we at Kestone were able to connect with 1.5 million customers and generate leads worth $640M for our clients..
More affordable: In-person events are expensive because of money spent on rent and decoration of the venue. With Virtual events, you cut down those costs to zero. No wonder virtual events are cost-efficient by 50%-80%. That extra money can be used to attract high profile speakers or improve user experience.

In-person events like engagement: Virtual events can be as engaging as in-person events. With feature like live streaming, polls , quiz , Q-A and chat, attendees stay engaged with content and network freely. Games also open up new opportunities for networking and sharing memories.
User data collection: Virtual events are reliable primary sources of user data. By taking a look at the dashboard, you can gather info on audience engagement, popular speaker/ content topics and much more. This info can be used later to improve your content or business strategies.

More value to partners/Sponsors:
Virtual events can be as lucrative as any in-person events for your partners. They can set up virtual booths which attendees can visit, read their content and download materials. They also get the option of doing 1:1 interactions with their potential leads. Sponsored posts, logo placement also help to promote themselves before the audience.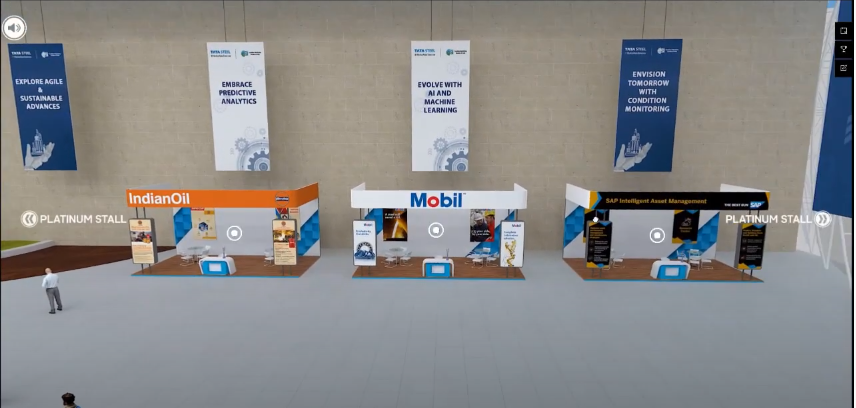 Image: Partner booths in ICMM 2021 ( powered by kestone)
How virtual events fit in your Saas marketing:
Think of virtual events as an excellent addition to your Saas marketing concoction. Let's discuss a few ways to use virtual events so that your lead pipelines stay hot.
Thought leadership and content marketing: Organizing any virtual conference instantly puts you in a thought leadership position. Your event becomes a learning and networking platform where your peers exchange ideas. Think of brands like Saastr, Adobe and IBM. A part of their credibility as thought leaders comes from conferences they organize every year.
Virtual Saas conferences are also great content marketing tools. The hours of interview recordings, explainer videos, case studies and written content attract your audience/ peers in droves.
Account based marketing: Account based marketing is all about delivering relevant content that resonates with targeted accounts. But the magic happens and sparkles fly when you use virtual events to deliver your ABM content. Virtual events are more interactive by nature which multiples your ABM efforts.
Product launches: Gone are days when you can just write a few PR articles , post on social media about your new product launch and call it a day. Saas marketing in 2021 revolves around offering both a great solution and a seamless user experience.
Make your product launch a virtual event. Promote the event and invite your target audience. Once they join in, allow them to use the product first hand ( and network with others). Some expert interviews on the problem your product solves can further sweeten the deal.
Sponsorship & speaker opportunities: Having a good number of sponsors lined up is great because it positively impacts your bottom line. But more importantly, well-known sponsors mean your event and brand itself are getting traction.
There are a few ways to attract new partnerships:
Offer an engaging virtual booth where visitors can interact with sponsor content.

Promote sponsors within your virtual even through logo placement or sponsored content.

Allow them to meet and interact 1:1 basis with their potential clients.

Consider organizing sponsored sessions where sponsors can share their opinions and expertise before the audience.
Conclusion
Event marketing was always one the best ways of doing Saas marketing. Now gears have been shifted and virtual events are getting prominence. In the coming years, more companies will opt for virtual events.
In case you need some help with setting up yours, feel free to reach out. We at Kestone have helped numerous B2B clients with their virtual events. Book a demo here.